Brave and the Bold Action League
From Therumorbuster
Background

First released in 2009, this spin-off line of Mattel's Brave and the Bold features stylized versions of various DC Comics characters that appear in the DC Animated Series.

Single Packs
Wave 1
Atom
Batman (Punching)
Batman (Holding a Batarang)
Blue Beetle(Without Blasters)
Green Arrow (Arrowhead on Arrow)

Wave 2
Batman jet pack in Black
Batman scubamask in Black
Plasticman
Aquaman
Wave 3

This wave was a mix of Batman Brave and the Bold Action League figures and characters from the new DC Universe Action League series. The packaging name was Batman Brave and the Bold (Action League)Total Armor. It included:
Hal Jordan-DCU AL

Batman (pose 1-fighting stance-Blue/Grey)-DCU AL

Knight Batman-BBB AL
Joker-BBB AL
Batman(Grey&Blue)-BBB AL
Two-Packs
Wave 1
Aquaman and Black Manta
Blue Beetle(With Blasters) and Plastic Man
Kanjar Ro and Batman
Red Tornado and Batman

Wave 2

B'Wana Beast and Bat Knuckles Batman
Batman and Metamorpho
Sportsmaster and Green Arrow(Boxing Glove on Arrowhead)
Ocean Master and Underwater Batman

Wave 3

Doctor Fate and Wotan
Blue Bowman and Owlman
Batman and the Top
Batman and the Joker

Batman and the Demon Etrigan
Wave 4
Black Lightning vs. Wildcat
Batman vs. the Scarecrow
Green Lantern vs. Dr. Polaris
Note, the "Green Lantern" is Guy Gardner.
Wave 5

This wave was never released although Sinestro, Deadman, and Bronze Tiger have made it into the DC Univerese Action League line.
Sinestro and Green Lantern Batman
Deadman and Phantom Batman
Mutated Batman and Bronze Tiger
Robin and Solomon Grundy

Note: This wave has not officially been confirmed, however these pairings were taken from the back of the Batman/Chemo box.

Vehicles and Mega Packs

Wave 1
Batman, Batmobile and Clock King
Batman, Gentleman Ghost and Skeleton Horse
Batman and Batsub
Wave 2
Batman and Gorilla Grodd
Batman and Batcycle
Wave 3
Batman and Chemo
Batman and Batcopter[1]
Note: Chemo was first spotted for sale in June 2010.
Wave 4
The last released vehicle was a repackaging of the Batmobile. It included:
Batmobile, Batman and Blue Beetle (without the blasters) instead of the Clock King.
Exclusives

Toys R Us Exclusives

Archrivals 6-Pack - Aquaman, Batman, Black Manta, Blue Beetle(With Blasters), Gentleman Ghost (Exclusive Clear figure), Kanjar Ro.

Unreleased Figures

Injustice Syndicate

Figures of Silver Cyclone, Scarlet Scarab, Dyna-Mite, and the Injustice version of Plastic Man were first seen in eBay auctions in December 2009[2]

Other eBay Auctions
Figures of Batman with a respirator, and with a jet pack, along with the Ted Kord Blue Beetle, were first seen on eBay in February, 2010.[3]
A figure listed as an Action League Killer Moth was found on eBay in January 2010, but the figure was later revealed to be based on a Toy Story 3 character.[4]
Toyfair 2010
Sinestro and Green Lantern Batman
SDCC 2010
At SDCC 2010 Mattel displayed a posted during their preview night of the upcoming Batman Brave and the Bold Action league figures. The picture, taken by TNI News, showed the various figures that had been seen on ebay as well as others that were going to be produced. Looking back now in this poster we see several figure that were never released and some that have been incorportated into the DC Univese Action League line.
Released: Figures that have been released under the DC Universe Action League line include:
Deadman
Bronze Tiger
Captain Marvel AKA Shazam
Sinestro (Green Lantern)
The Flash
Guy Garner was re-released
Never Released were:
Robin
Black Manta with hooks
Felix Faust
"Bat Creature" Batman
Green Lantern Batman
Red Tornado with Tornado hand
Classic Blue Beetle Ted Kord
Metal Men
Solomon Grundy
Faceless Hunter
Batmonolith- from episode "The Fate of Equinox!" season 1.

Starro
SDCC Poster
A poster was handed out at SDCC 2009 showcasing various figures, including many unannounced and unreleased action figures for a total of 26 different characters and 38 total figures. The poster did not include the black-costumed Batman from the Batmobile set, or the straight-armed punching Batman from the single-packs.

Batman (9 versions, labeled Batman 1 through Batman 8 with no number for "Dark Knight Batman")
B'wana Beast
Sportsmaster
Ocean Master
Green Arrow
Metamorpho
Classic Blue Beetle (Ted Kord)

Chemo
Black Manta (two versions, one with a harpoon, one without)
Clock King
Plastic Man (two versions, one shaped as a hang glider, one with large fists)
Joker
Etrigan (The Demon)
Red Tornado (two versions, one with a tornado fist, one with a tornado legs)
Blue Beetle (Jaime Reyes)(two versions, one with guns for hands, one without)
Kanjar Ro
Atom
Aquaman
Gorilla Grodd
Doctor Fate
Owlman
Guy Gardner (Green Lantern)
Blue Bowman
Doctor Polaris
Wotan
The Top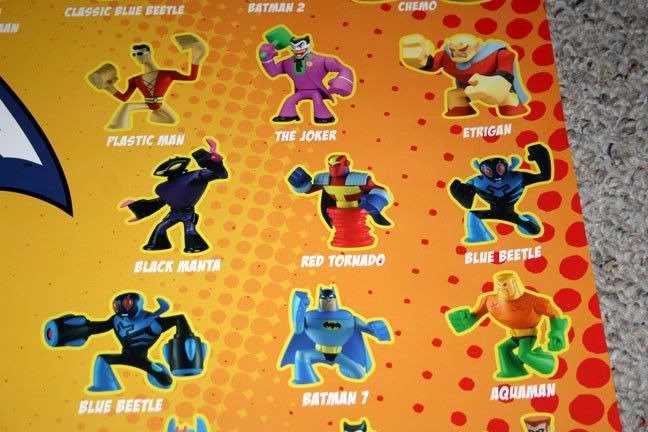 References